As we mentioned on our homepage, our favorite game is Clash Royale and we just so happen to be pretty good at it. This game has become extremely popular in the world of eSports and there are regular competitions all throughout the year. This year, we took part in Clash Royal League and you can find out how we got on below.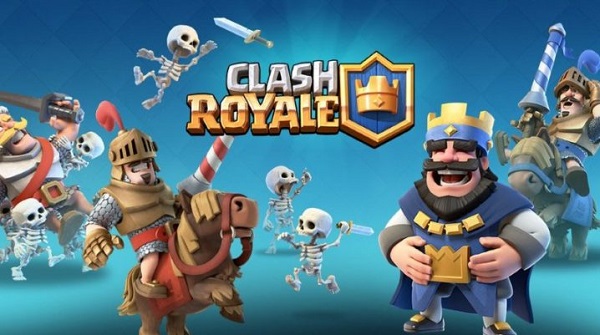 A Brief Explanation as to What Clash Royale is
Clash Royal is a real-time strategy game that was developed by the Finnish mobile game company Supercell. In the game you have to collect cards and upgrade them so that you can build a formidable deck that you can then use against opponents in a 1 v 1 or a 2 v 2 battle. You can get cards by joining a clan and requesting donations or trades and by opening up chests. You can get chests by winning battles and by completing mini quests. You can upgrade your cards using the coins that you collect.
During the battle, your aim is to destroy the towers of your opponent or opponents. For each tower that you destroy, you will earn a crown. A battle lasts three minutes, but if both parties are level on crowns, sudden death will occur. If scores are still level after sudden death, the player that has conceded the most damage on their remaining towers will lose the match.
There are four types of cards in the game, which are common, rare, epic, and legendary. Each card costs a certain amount of elixir to use, depending on what they offer. Some cards cost one elixir to use, while others cost as much as 10 elixir. You can upgrade all cards to level 13, which is when they will be at their most powerful.
During the game, you have an elixir bar at the bottom of the screen that shows you how much elixir you have available to use (the most elixir you can have at any one time is 10). You will also see the four cards that you can choose from at that moment in time to defend or attack. The key is to choose your cards wisely, depending on the card that your opponent or opponents have played. If you waste your elixir, you will suffer a heavy defeat.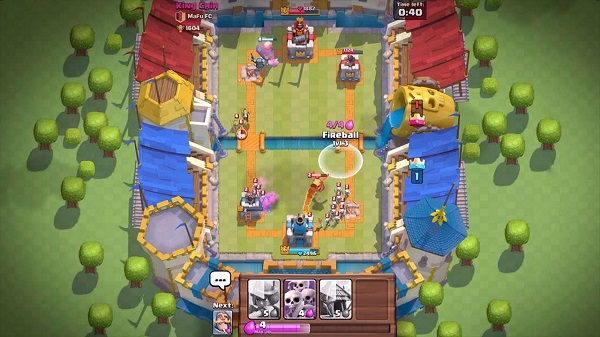 Players are ranked based on the number of trophies that they have. You win trophies by taking place in 1 v 1 battles. If you win a 1 v 1 battle you will be rewarded with some coins and some trophies. The more trophies you have, the higher the area you will battle at, meaning you will face better opponents.
There is more to this game than the above, but we just thought we would give you the basics. If you would like to find out more, we highly recommend that you download the game on to your mobile device and try it out for yourself.
Its Success on the eSports Scene
Due to its originality and the fact that it is available to anyone with a mobile device, Clash Royal has become very popular and there are now many extremely skillful players.
When it was released back in 2016, they organized some small tournaments, but the following year they organized two bigger tournaments that came with a prize pool of nearly $500,000.
In 2018, the Clash Royale League was introduced. This competition was created with the aim of giving people a chance to prove themselves and to win a spot on a team so that they can compete against some of the best players in the world.
The Clash Royale League ExplainedWhen compared to other eSports competitions, the format of this tournament is unique as it is split into four stages. Step 1 - Win twenty matches: Normal Clash Royale players were given a chance to showcase their talents and maybe win a spot on a professional team. In order to qualify, players had to get twenty wins (each player got three lives). Step 2 - Combine Qualifiers: Those who managed to get twenty wins moved on to the Combine Qualifiers, which was a live event. Representatives from all the best Clash Royale eSports teams were here to see if they could spot any talent. ![clash-royale-league](/images/uploads/clash-royale-league-stadium.png) Step 3 - Clash Royale League: Teams competed against each other for a period of 9 weeks in 1 v 1 battles, 2 v 2 battles, and King of the Hill. At the end of the season, the teams that got the most wins for their region, moved on to the World Finals. Stage 4 - World Finals: The best teams from all the regions competed to take home the top prize of $150,000 and the right to call themselves the best Clash Royale team in the world.Our Participation at the World Finals
Like we have said before, we know our stuff when it comes to Clash Royale, which is why we were fortunate enough to be one of the teams that was competing at the World Finals in 2019. Out of the 6 teams that were competing, we finished 3rd, which meant that we walked away with a prize of $50,000.
We are hoping to be competing again next year, where we will aim to go at least one better.
Do You Want to Bet on Clash Royal eSports Events?
Like with all eSports, you need to understand how the game is played before you start betting on it. Therefore, you need to fully understand what cards do what and which combinations are the best. The producers of Clash Royale are always making balance changes in order to keep the game fun and provide players with new challenges. Therefore, in order to make the best bets, you will need to keep renewing your game knowledge.
You also need to decide which team or region that you are going to follow, so that you can start learning what strategies and decks they like to use. Thankfully, you can find many videos online of professional Clash Royale players doing their thing. If you want to follow us, you can learn our style by subscribing to our YouTube channel, which is where we regularly upload footage of us playing.
What Betting Markets Are Available for Clash Royale?
Clash Royale is a young eSport, so the prize pools are a lot smaller than other eSports and sportsbooks won't provide their customers with a wide variety of markets.
You can obviously try and predict which team will win a match. You can also try and predict which team will win the whole tournament. In the future, we expect more markets to open up such as how many crowns a team will get, whether a match will go into sudden death, and in what minute of normal time a game will end.